It's been awhile since I posted a blog. I think this is not my best way of communicating! But I have been busy quilting and sewing with my own hand dyed fabric and fabric purchased before March of 2020. I have been trying to be sustainable by using all the pieces that get cut, until there is barely any bits of fabric left. I am saving them to use as stuffing for a foot poof.  I thought I'd give you an update into what I've been doing throughout this pandemic.
In fall of 2021 I received a huge order for table cloths in cotton duck. Lime green  with a mossy green called herbaceous. The sample, if you like lime green, was lovely. It had hints of the yellow that made up the green as spots in the dye process. Then translate that from one yard to twenty 26 yards, in two 13 yard pieces. 
Anyone who dyes understands that a small piece takes the dye differntly than a larger piece no matter how careful one is to dupilicate the technique. Needless to say the large pieces did not dye like the sample. The buyer rejected the order. BIG lesson learned here.
But what to do with 26 yards of cotton duck in lime green? Not my favorite color!
The original sample for reference.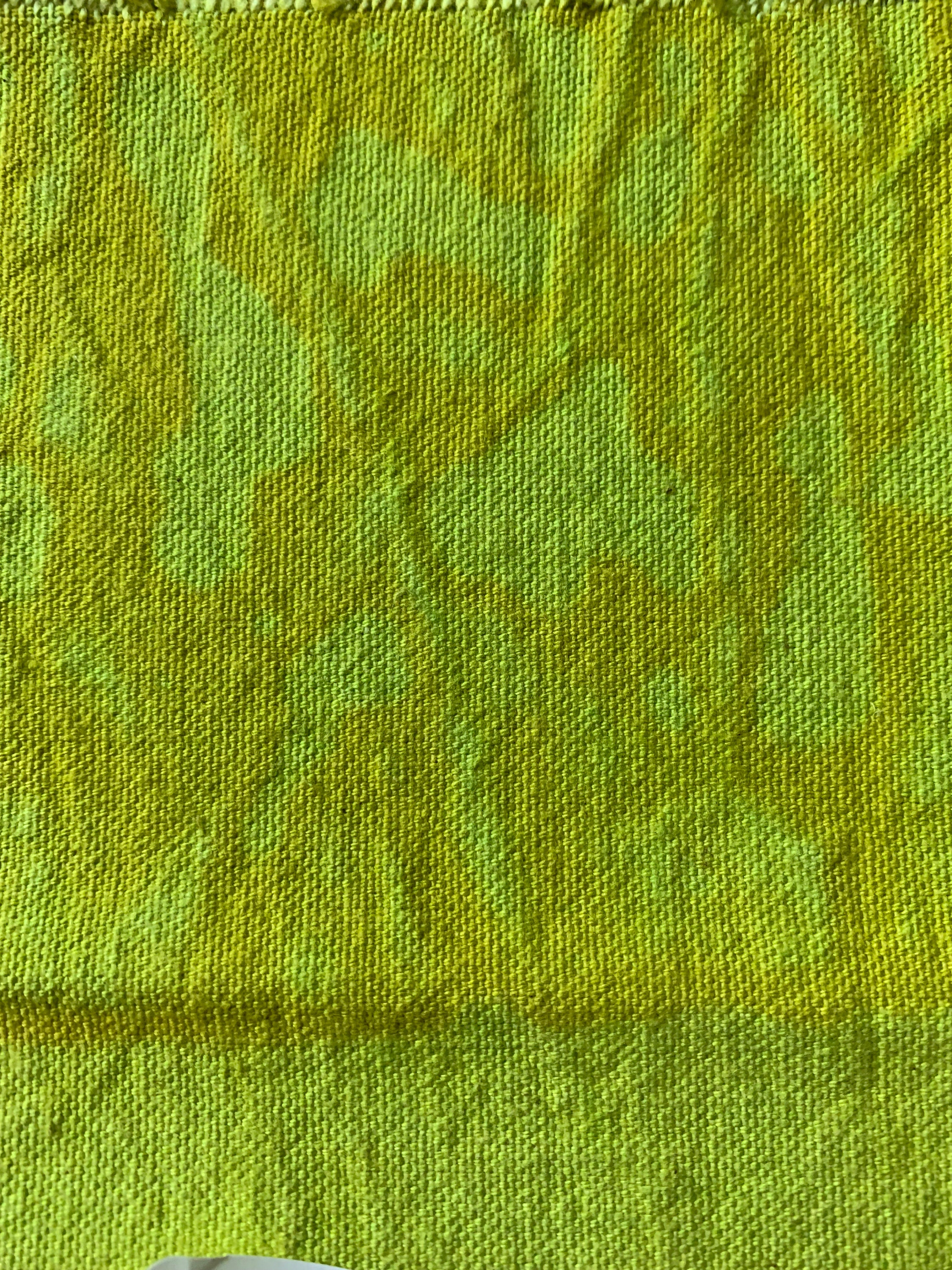 The large piece of fabric after dyeing. Still wet!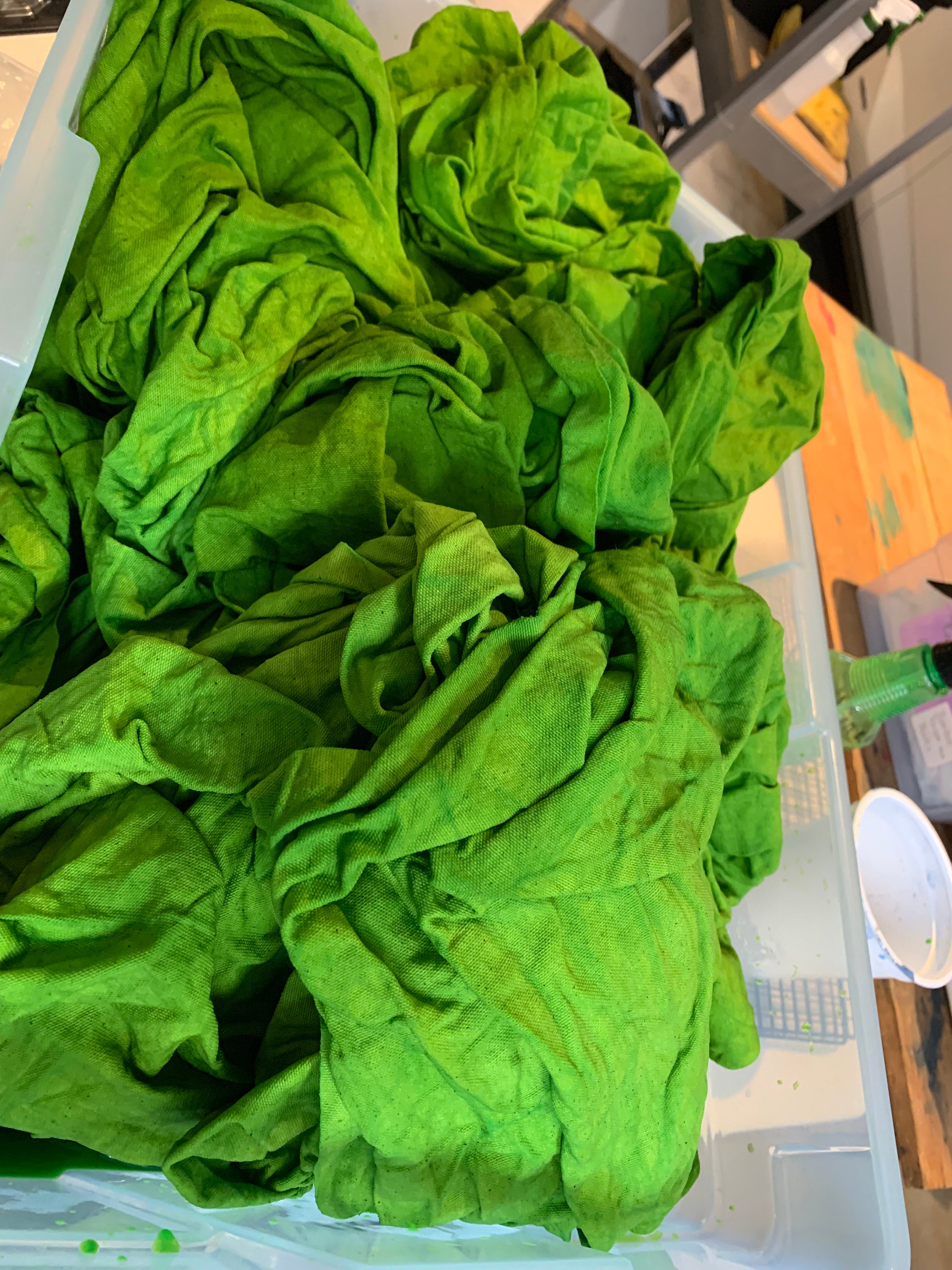 The results when washed and dried: Yes, not even close...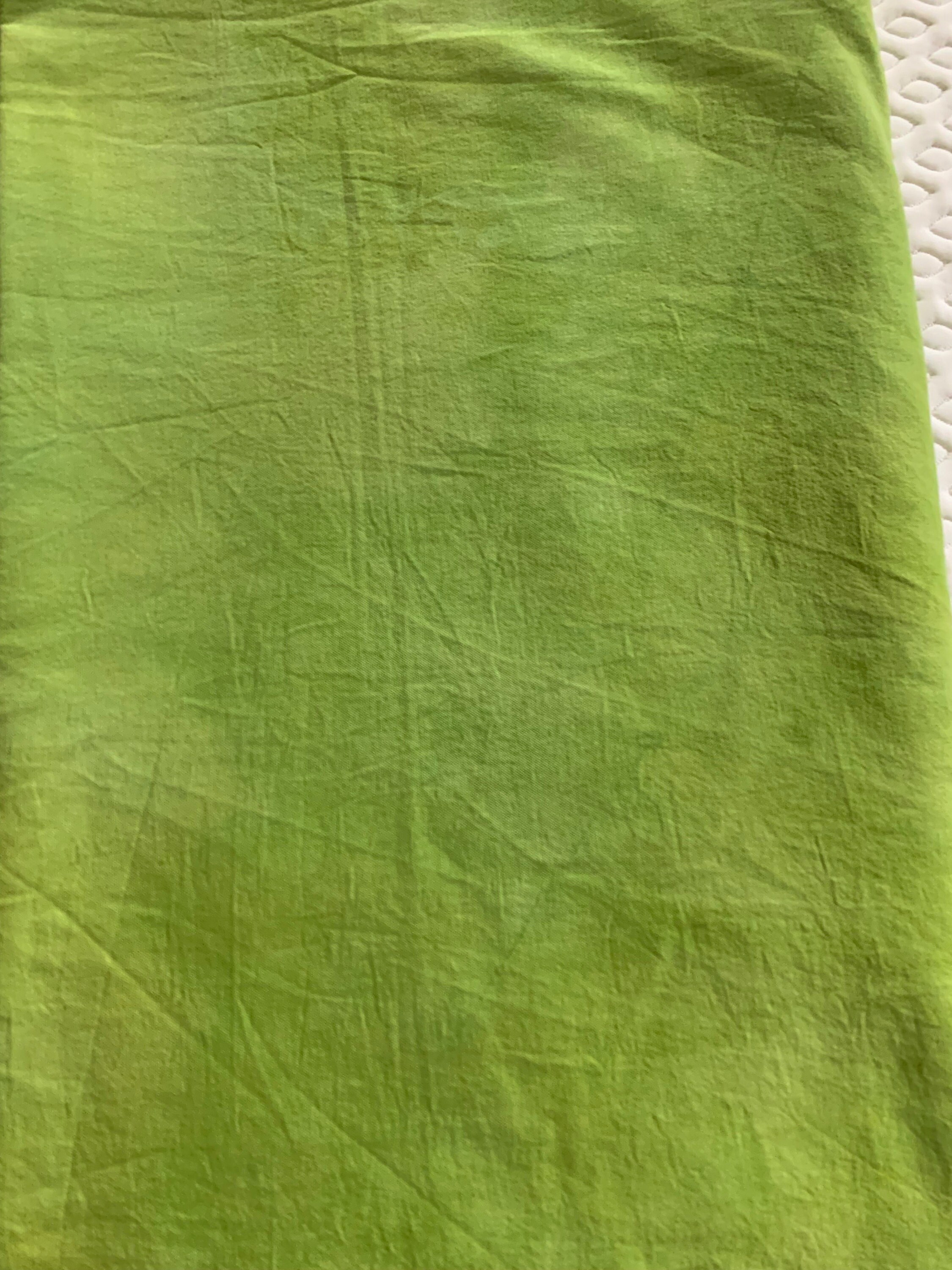 The lime green overed in cerulean:
The lime green overdyed in forest green: I made wrapped apron for my daughter out of this. Just the right weight!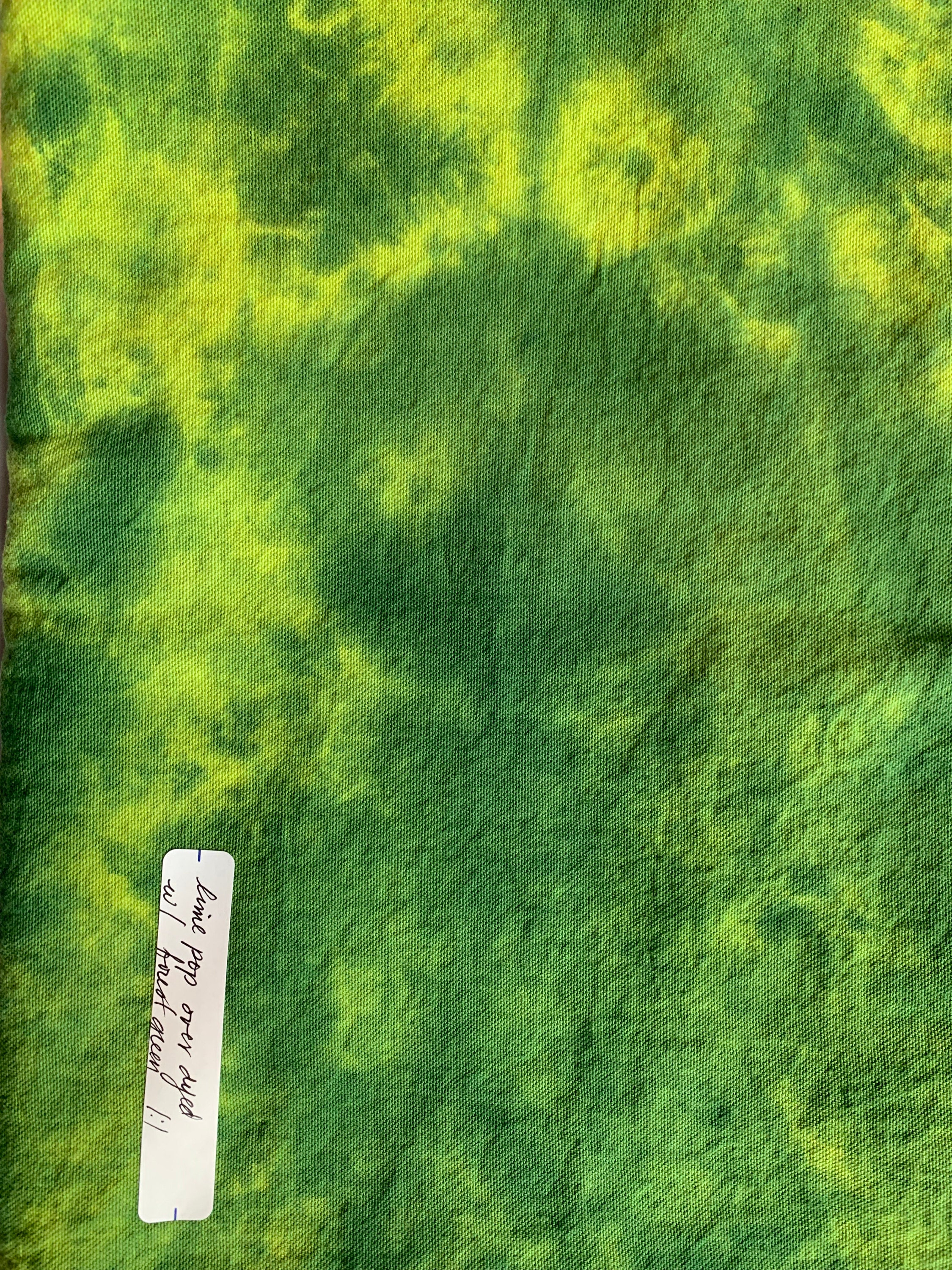 This is the lime green overed with the kingfisher blue.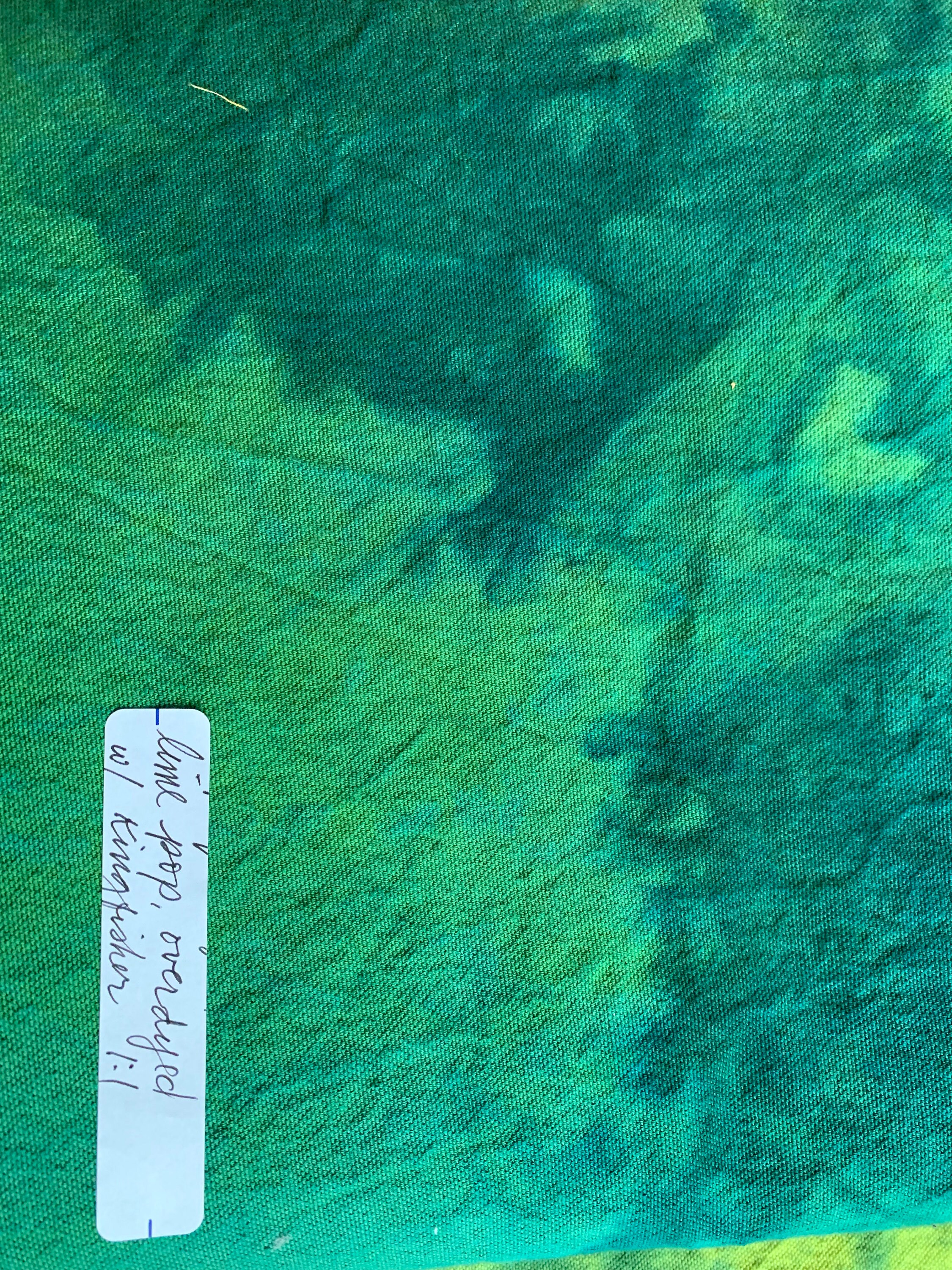 Since the first salvage was to overdye smaller pieces in a variety of other colors. I started with overdyeing the lime green fabric with a kingfisher blue, mottling the fabric so that there was variation in the tones. It was my favorite of the three experiments, so I decided to make a Haori Jacket using other dyed fabric pieced for the collar. I love the weight of the jacket and the quilted collar gives it great weight for warmth on these cold days.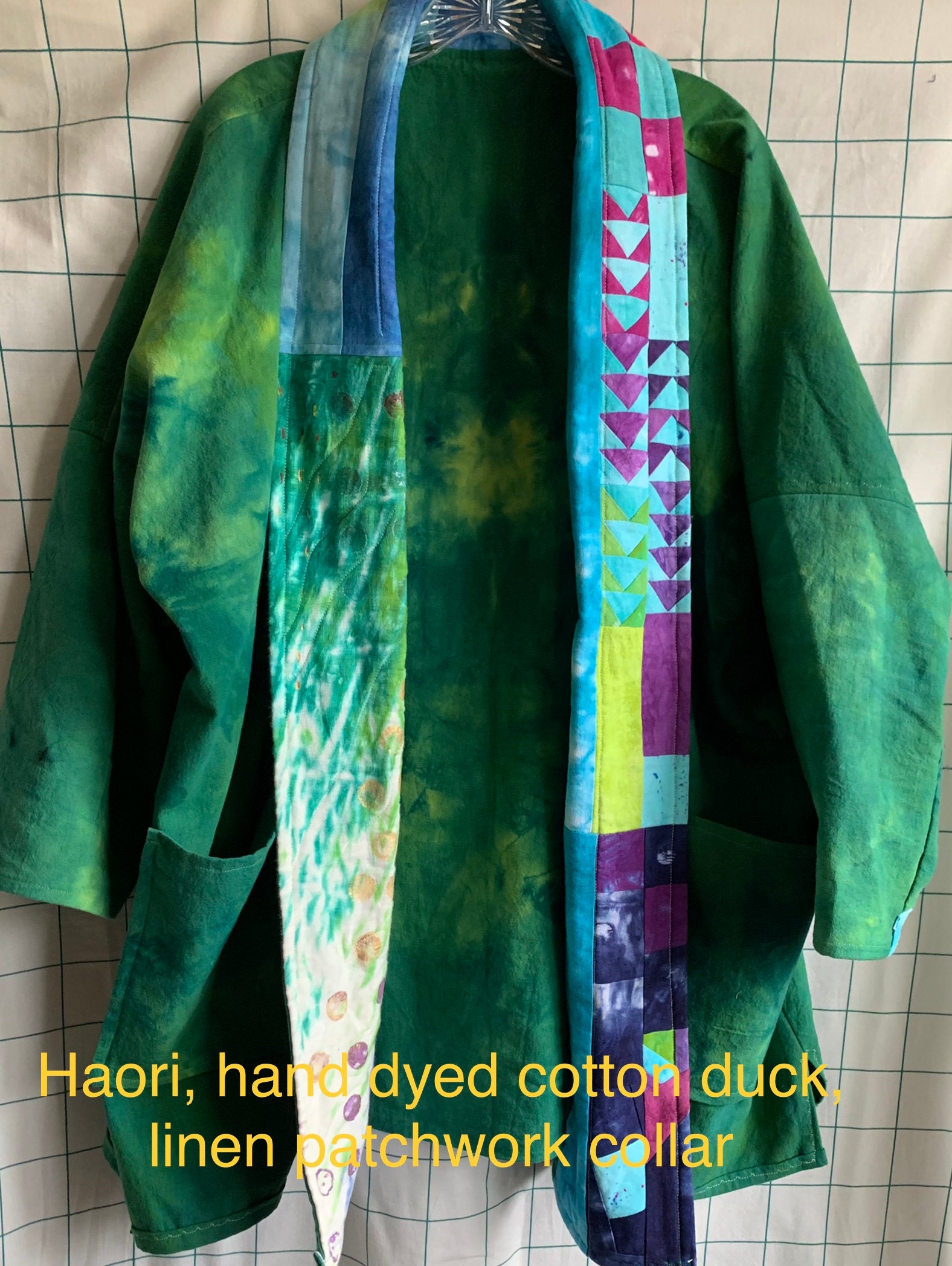 I also overdyed with cerulean blue and with forest green as shown above.
I still have fifteen yards of the lime green cotton duck. I am considering stencilling fall leaves for table runners, green shamrocks for St Ptricks Day, orange pumpkins for Halloween... or overdyeing with orange to get a range of brown. What would you do?